Choosing A Mortgage Broker
Choosing a mortgage broker.
Whether you are moving home or a first time buyer, choosing a mortgage broker can be a daunting prospect. Here we explain 6 simple steps to consider when you are looking to instruct a mortgage broker.
1. Check the company is registered with the Financial Conduct Authority (FCA) and the firm's mortgage advisors hold the relevant qualification to allow them offer advice and they are individually recognised by the FCA. It is simple to make these checks and can be done on the FCA website, the following link will take to the correct page to make these searches. register.fca.org.uk 
2. Does the firm offer advice from the Whole of Market? Checking to see if they offer Whole of Market or if they work off a panel of limited lenders will ensure you will be offered the best mortgage to suit your personal needs and circumstances.
3. Most mortgage brokers charge a broker fee in addition to receiving commissions from the lender they place business with. Check what their fee is and how it is structured, this should all be clearly explains within the companies terms of business. Never be shy of requesting to see the terms of business or T&C's before taking things further.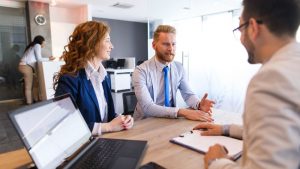 4. Lots of online mortgage brokers do not offer face to face meeting in the office, always check if you can go and see them if that is what you'd prefer. Since the pandemic many mortgage brokers now offer online meetings via Zoom and Teams etc. Online meetings are a great way of meeting your mortgage broker without the need to travel to their offices, freeing up more time for yourself. Obtaining a mortgage is one of the biggest financial commitments people make in their lifetime so making sure you are comfortable with the broker firm you choose is really important. Are you happy to be advised purely via email and telephone calls? Or do you want that more personal touch and actually meet with the person who will be finding your mortgage.
5. Most mortgage brokers have testimonials on their website which is great but ask if you can see evidence that the testimonials are genuine. Online platforms such as Trustpilot and Google allow people to leave reviews on their experiences with their mortgage broker. Another great way of checking is to see if the business has any social media activity such as Twitter, Facebook and Linkedin. However, always remember reviews are not 100% accurate, but they are a good guide to understanding a firm's reputation.
6. Feeling comfortable with your broker is the most important thing, so once you have done your checks only instruct them if you are completely satisfied. They will hold a lot of personal and financial information about you so it's really important you are happy with the company you have chosen.
Choosing a mortgage broker to work for you can make the whole process of moving house much smoother. They will liase with estate agents, solicitors and of course the lender on your behalf throughout the process. If you are a first time buyer the thought of getting a mortgage can be quite worrying. However having the right mortgage broker will make the process of owning your first home an enjoyable moment in your life.
Orange Frog Mortgages offer face to face appointments at their office in Abingdon and you can meet with the advisors online via Zoom. To get started just email or call them to arrange an initial free consultation and don't be afraid to ask to see those genuine testimonials and terms of business. Call on 01235 555028 or email them on info@ofmortgages.co.uk
Happy house buying!